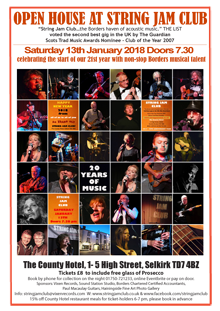 OPEN HOUSE AT STRING JAM CLUB is set to take the County Hotel in Selkirk by storm with a non-stop tidal wave of acoustic music, brought to you courtesy of the best of our local musicians.  Twenty years after we launched the club in 1997, we are about to usher in our 21st year, so we have truly come of age! So we've decided to have a party.  Those 20 years are a very long time and so much great music & special moments have been experienced. We've had so much fun, made so many new friends & welcomed people from all over the world. As we have always maintained, the club's long life is thanks to the many people, be they performers or punters, who have kept coming through the doors & into "the Borders haven of music."
 
Our guest headliners have been second to none, world-class, & have lit up & sometimes changed our lives with their music. But equally important are the excellent local musicians who have generously given us some superb opening performances before the main act, & who have impressed & entertained you with their skill, passion & flair.  So - to usher in the beginning of our 21st birthday year, and as a tribute to the important contribution these local musicians have made to the club and the community - we thought that our first event of 2018 should be their night.  
 
Instead of booking a headline artist, we are throwing open the String Jam Club stage to the many outstanding quality local musicians who have shone in their support slots at the club over recent years. It's going to be a veritable String Jamathon, a supremely entertaining night of non-stop music from some of the best of our Borders musicians, whose songs and tunes have made our evenings sparkle. The line-up is already chocca and is still being finalised, but I promise it's going to be grand and full details will be announced shortly on our Facebook Page.
 
More info to follow in the local press as well as our Facebook page & Twitter, so keep your eyes peeled!  In the meantime, keep that date in your diary. It's going to be one almighty party night at 'Open House at String Jam Club' as we come of age!

String Jam Club on Facebook

Tickets £8 (includes a FREE glass of Prosecco) are available from the venue by phone 01750-721233 (card bookings incur 50p card transaction fee). Tickets will be reserved for collection on the night, or you can pay on the door.

Online ticket sales via Eventbrite (booking fees apply).

15% discount off County Hotel restaurant meals for ticket-holders 6-7 pm on gig nights.  Advance table reservation advised by phoning 01750-721233.  

DOORS OPEN 7.30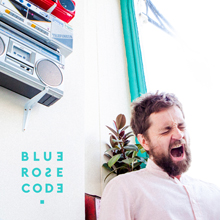 String Jam Club is totally over the moon to be welcoming Blue Rose Code to Selkirk.  Edinburgh born Ross Wilson spent his creative formative years in East London, then moved to South England "to be by the sea's energy" but it is in his homecoming that he has found where his heart is. Life wasn't always simple for Wilson. "I have swapped one type of chaos for another" says Wilson. As the main man at the helm of Blue Rose Code, he is, part director, part sculptor...total chameleon. He has spent most of his musical life curating; he sculpts his band to every mood and temperament in order to create the perfect happening. Tonight he performs in a three-piece line-up.
A nomad both geographically and musically, Ross writes from the heart eschewing any specific genre and the twelve songs on new album 'The Water Of Leith', addressing themes of love, loss, travel, home, accepting the past and embracing the future, are painted with colours of folk, jazz, soul and pop; an eclecticism that has become a hallmark of Blue Rose Code and has seen him compared to John Martyn, Van Morrison and Tom Waits.  This album was the winner of the Scottish Album of the Year Award 2017.
Underlining the sense of movement and place in Ross's work and 'The Water Of Leith' is rooted in his return to his Scottish homeland. There, he reconnected with the stellar folk and jazz musicians who were to become an integral part of the new album's sound. Grammy-winning American singer-songwriter Beth Nielsen Chapman features on the opening track. Ross co-produced the album with Angus Lyon.
Ross cites taking his last drink as the start of living rather than the end of the drinking. Now a committed enthusiast and creative whirling dervish, the past few years have yielded some of his most exciting work to date including the album 'The Ballads of Peckham Rye', which was nominated for the prestigious Scottish Album Of The Year Awards (2014).
A hallmark of Blue Rose Code is that they connect so strongly with their audiences in live performances  as they tour the length and breadth of the UK, selling out major venues and festivals wherever they go and leaving a trail of fans in their wake, people who have clamoured to see them.  To experience the deeply soulful and beautifully honest lyrical music of Blue Rose Code in the intimate atmosphere of String Jam Club is going to be a very special gig to savour.
With support from Jenny Biddle.
"Seriously, can't recommend Blue Rose Code enough, cannot stop listening." (EWAN McGREGOR)
"The boy's a genius." (IAN RANKIN)
"Every gig is different with Ross. A great gift of a man." (RICKY ROSS)
"The day that 'Solid Air' and 'Astral Weeks' combined." (RODDY HART)
"Wilson's songwriting is fantastically varied, and as witty and knowing on the one hand as it can be heartbreaking and sentimental on the other." (THE HERALD)
"An affirmation of love that links human relationships with the natural world. As sublimely paced as Astral Weeks-era Van Morrison." (FOLK RADIO UK)
"The Water of Leith is an ode to forgiveness, to letting go of the past and holding on to hope – it's an astonishingly accomplished, pure and sincere record."  (***** THE SKINNY)
"A work laden with beauty, possessed of depth, heart and soul." (AMERICANA UK 9/10)
"This album deserves your undivided attention" (MAVERICK)
"Truly special and beautiful."  (EDITH BOWMAN, BBC RADIO 1)
Blue Rose Code Official website
String Jam Club on Facebook
Over The Fields (For John)
Grateful (live on RTE)
Love Is (feat. Julie Fowlis)
Live at the Queens Hall documentary
Tickets £15 available from the venue by phone 01750-721233.  Tickets will be reserved for collection on the night, or you can pay on the door, subject to availability.

Online ticket sales via Eventbrite.

15% discount off County Hotel restaurant meals for ticket-holders 6-7 pm on gig nights. Advance table reservation advised by phoning 01750-721233.

DOORS OPEN 7.30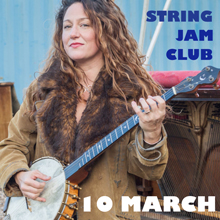 Songwriter and multi-instrumentalist Cera Impala is a banjo, ukulele and guitar-wielding mama who oozes wild style.  Her voice is distinctive, unique yet timeless, and many of you will remember it from her previous appearances at String Jam Club – firstly with Dark Green Tree who supported Boo Hewerdine a couple of years back, and also as a member of the Bevvy Sisters, the queens of harmony and sass.  Her writing style is just as magical as her voice, creating songs that feel instantly familiar.  

This time Cera performs with her own hand-picked band, The New Prohibition, featuring the talents of Joel "Jello" Sanderson on double bass and "Dr." Dirk Ronneburg on fiddle.  With a slice of slice of hillbilly noir and a measure of gritty 20's and 30's jazz, they have one foot in the past and the other in the future of folk, jazz and Americana.

Born in Flagstaff in Arizona, Cera has made many places her home since 1994 when she left Portland, Oregon for New York City, travelling far and wide to California, Olympia, Washington.  This perhaps explains the eclectic mix of musical styles in her songwriting, which is always so refreshing to hear in any artist. A mean banjo-player to boot, I can't think of any artist one would compare her too, which in my book, means you're in for something really special.   

Dr. Dirk, her husband and long-time musical partner, is a fiddle-blazer of the highest degree, also known for his performances with gypsy jazzers 'Viper Swing' and in the folk-bluegrass supergroup,  Southern Tenant Folk Union. The blues are deep in his heart and shine through in every note he plays. The synergy between them is palpable and Cera insists she insists she met Dirk in a dream before meeting him in real life.  It's more than plausible - their music is indeed singular, atmospheric and otherworldly.  

Don't be fooled; as whimsical as they may seem, there is a beautiful truth and intensity to Cera Impala and the New Prohibition, like a bar of deliciously dark chocolate - bittersweet, and very more-ish.  It would be an incredible feat not to fall in love with them.

"A quirky mix of gritty swing and edgy folk, delivered in her soulful honeyed voice, examining the dark mysteries of the human condition." (MAVERICK ****)
"I get hundreds of CDs sent to me every year from bands wanting to come and play on Arran - most of them pretty average. Just occasionally I get a gem - Cera Impala's set tonight was simply stunning - apologies to Euan Henderson for the lousy bar takings as everyone in Brodick Hall tonight was so transfixed by this banjo-wielding mama that they just couldn't tear themselves away to go to the bar - and quite rightly so because it was a phenonemal set by three very talented people. Thank you Cera - it was a privilege to spend some time in your world."  (ARRAN FOLK FESTIVAL)
"Weaves an eclectic route between folk, swing, and the downright unexpected." (ACOUSTIC MAGAZINE)
"…Feisty banjo and fiddle and assured female vocal… You can't not argue that Cera and The New Prohibition create a distinctive sound." (FROOTS MAGAZINE)
"There's an eclectic mix of jazz, folk, swing and Americana styles scattered throughout, so it's no surprise to hear turntable scratching accompaniment from Brieuc Bestel on the delightful closer, 'Home', but it all works, and falls together beautifully, to create a charming, synergic album packed full of innovation, otherworldliness, and musical light and shade, allowing the listener to drift away on waves of sonic ambience. (R2 MAGAZINE*****)
"US-born and based in Scotland, Cera Impala plays some understandably credible American music with her band, the New Prohibition.  Blessed with a great voice…she's also a prodigious writing talent, and a mean player of the banjo and ukulele.  It's her fourth album, and there's plenty to recommend it, from the vintage sound of the opener, Fingernail Moon to the fragile beauty of You're Not Yours (a title to make any grammar pendant smile). Accompanied by bass and fiddle, she creates a surprisingly full and inventive sound that draws on her roots, and when guests join in, as with the harp on Heaven, it's not to add a name or two, but to create a mood. Even the joker in the pack, Home, with its turntable scratching, actually fits perfectly.  There's plenty going on here, and it's an object lesson in how to create a complete sound with very little.  Start there, and stay for the songs and the voice; you won't regret it."
(STIRRINGS MAGAZINE 9/10)
"The best gig we've ever put on!" (COMRIE VILLAGE HALL)


Cera's Website
String Jam Club on Facebook
Little Bird
Flicker & Shine

Tickets £12 available from the venue by phone 01750-721233.  Tickets will be reserved for collection on the night, or you can pay on the door, subject to availability.

Online ticket sales via Eventbrite.

15% discount off County Hotel restaurant meals for ticket-holders 6-7 pm on gig nights. Advance table reservation advised by phoning 01750-721233.

DOORS OPEN 7.30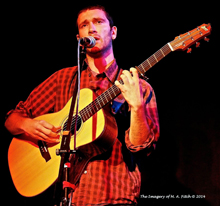 Ewan McLennan first emerged onto the UK folk scene with the release of his debut album 'Rags & Robes'. The recording gained much critical praise, described by Maverick as 'a collection of truly captivating songs', and featured in MOJO's top ten folk albums of 2010. After an appearance on the BBC Radio 2 Folk Show and a televised performance for the Celtic Connections Festival at the Glasgow Royal Concert Hall, his debut was capped by winning the BBC Folk Award's Horizon Award in 2011.
Immediately noted for his depth of feeling and sincerity, Ewan's reputation has been built on his great respect and passion for the music he plays. Whether singing haunting traditional Scottish ballads or weaving the powerful stories of his own songs, Ewan's unique, moving and earthy voice is always compelling. An outstanding guitarist (having performed with and been taught by a number of world-renowned guitarists, from Martin Simpson to Robin Hill and Jerry Douglas), it is no surprise that this distinctive guitar virtuosity is a key element of his music.
The much-awaited second album, 'The Last Bird to Sing,' was greeted with glowing reviews and confirmed his prominence amongst the new generation of folk musicians. As well as continuing to plough the furrow of traditional song Ewan's self-penned songs on his second album were once again met with critical acclaim. His track 'Joe Glenton' was awarded a prestigious national award for political songwriting, reinforcing his reputation as a singer who does not shy away from stinging social commentary. The release of 'The Last Bird to Sing' gained Ewan several further awards, including the Spiral Earth Award for Best Male Singer of 2013.
Ewan has been touring constantly around the UK and overseas and has gained a reputation for intimate and moving performances. He has performed on the world-renowned Transatlantic Sessions together with the finest folk musicians from around the world. The series had him collaborating with artists such as Aly Bain, Tim O'Brien, Cara Dillon and Mike McGoldrick and showcased both Ewan's unique interpretation of traditional song and his own self-penned songs.
Ewan's new album 'Stories still Untold' was released in September 2014 to critical acclaim. We are delighted to welcome Ewan back for his second appearance at String Jam Club, which forms part of his major UK and Europe tour 2018.
"One of the most exciting singers to come out of Scotland in recent years." (MIKE HARDING)
"Oozes class… when we lost Iain MacKintosh and Bert Jansch in recent years I have been waiting for a male voice with the same mixture of vulnerability, sensitivity, and above all, humanity. In Ewan McLennan I think we have that voice".  (THE LIVING TRADITION)
"An outstanding singer and fine guitarist." (FROOTS)
"Stories Still Untold is a real treat."  (**** THE TELEGRAPH)
"Stories Still Untold is a stunning collection of songs and an album which confirms Ewan's name as one of the bright lights on the folk scene today". (BRIGHT YOUNG FOLK)
'A major figure on the Scottish folk scene." **** (TOP OF THE WORLD, SONGLINES)

Transatlantic Sessions
Tramps and Hawkers
The Rolling Hills of the Borders
Boots of Spanish Leather
Jarama Valley (Instrumental)
String Jam Club on Facebook

Tickets £12 available from the venue by phone 01750-721233. Tickets will be reserved for collection on the night, or you can pay on the door, subject to availability.

Online ticket sales via Eventbrite.

15% discount off County Hotel restaurant meals for ticket-holders 6-7 pm on gig nights. Advance table reservation advised by phoning 01750-721233.

DOORS OPEN 7.30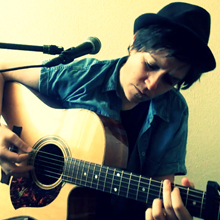 We are thrilled to welcome the hugely popular Jenny Biddle, by public demand.  Jenny is our favourite Scottish Borders local Aussie - a prolific indie folk/blues singer-songwriter, first rate guitarist & pianist, guitar maker, Melbourne's Best Busker (for 3 years running), blues harmonica player & a self-confessed recovering chocoholic. She may only be five feet tall, but she packs one hell of a punch, with her fabulous music, warm personality & stage presence that have won her masses of fans throughout the world. Now happily married & based in Scotland, she continues to tour internationally, recently touring Australia & soon off to Canada in June.  In between, we are delighted that Jenny is top of the bill at her own headline show.
With six albums
under her belt and an iTunes chart-topping single, Jenny Biddle wraps herself around her guitar, and like a marriage between body and instrument, she commands the guitar to talk "with uncommon skill and absolute self-assurance." (Australian Stage). Music was always Jenny's destiny and it all started with the ukelele at age the age of four, then piano at the age of five, leading to guitar at the age of nine.
Her debut studio album 'Chest of Drawers' in 2009 was described as "Beautiful, no-nonsense folk music, with one of those great emotive voices that echoes just a touch of world-worn huskiness" (Dom Alessio, Triple J). Trad & Now Magazine described it as "… quite simply remarkable."  In the company of Tracy Chapman & Passenger, Jenny's 'Hindsight' single climbed to #9 in the iTunes Songwriter Charts in 2013.  Her third album 'Hero in Me' was followed by 'Cover to Cover'. The album bears witness to Jenny's musical dexterity & mastery of different genres, delivering ingenious cover renditions of songs by the likes of Joni Mitchell, Leonard Cohen, Cold Chisel, Fleetwood Mac, while she plays her self-made baritone guitar, harmonica, haunting piano and more.  Her fabulous blues/roots version of Michael Jackson sees her exploding into a 10 minute sweltering guitar improvisation, a piece that always sets the place alight when performed live.
Celebrating over two decades of guitar playing, Jenny has hosted workshops at festivals, was the 2013 Artist in Residence at Macquarie University (Sydney), lecturing about alternate guitar tunings, songwriting, performing, and advanced guitar techniques.
Despite her vast experience, she maintains that she spends her spare time in front of the mirror, continuing to develop guitar facial expressions in an effort to boost her meagre Guitar Hero score beyond 22%. This statement is an indication of the legendary Biddle humour which is but one aspect of this hugely likeable artist's live performances: warm, witty, & multi-faceted.  Her banter is direct, personal, self-deprecating, funny, & utterly engaging.  But behind all of that lies a musical depth, directness & sincerity that will hook you in to her memorable & affecting songs & some ace guitar chops. We guarantee you'll go home with a big smile on your face, feeling that you have discovered your new favourite star.
"If your heart's feeling cold, this will thaw you right out."
(DAILY REVIEW)

"Her work is full of the same spirit, sincerity and beauty as the best works of many of this country's celebrated folk troubadours."
(THE MUSIC, AUSTRALIA)

"Enthralling."
(BEAT MAGAZINE)


Jenny Biddle Official Website
String Jam Club on Facebook
Billie Jean
Big Bad World
Fast Car
Wild & Free

Tickets £12 available from the venue, payable cash (01750-721233), or on the door (subject to availability.)  Tickets can also be reserved in advance by emailing the club.  Online ticket sales via Eventbrite.  
 
15% discount off County Hotel restaurant meals for ticket-holders 6-7 pm on gig nights.  Advance table reservation advised by phoning 01750-721233.  
 
DOORS OPEN 7.30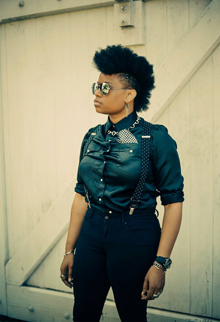 Describing herself as a Southern Gothic, alt-country blues singer/songwriter, Amythyst Kiah is one of the most incredible singers we have ever heard. Based in Tennessee, her commanding stage presence is only matched by her raw and powerful vocals - a deeply moving, hypnotic sound that stirs echoes of a distant and restless past. Provocative and coolly fierce, Amythyst Kiah's ability to cross the boundaries of blues and old-time through reinterpretation is groundbreaking and simply unforgettable.
 
Think of Big Mama Thornton, Sister Rosetta Tharpe, Mahalia Jackson, Son House, Jimmie Rodgers, Dolly Parton, Patsy Cline & Loretta Lynn, the Carter family and you're on the right track.  But her set list is also remarkably eclectic, never predictable, ranging from Vera Hall's classic 'Trouble So Hard' to Radiohead's 'Fake Plastic Trees' (another major influence) and her own excellent self-penned songs. With a degree in bluegrass music under her belt, acoustic guitar & banjo to hand, Amythyst has a truly authentic voice that satisfyingly evokes the American tradition, yet encompasses more modern material in a seamless blend of genres.  
 
Amythyst has headlined twice already at String Jam Club & has made such an impression on us, that we have invited her back for her third visit. We believed that she is destined for greatness & we are not the only ones to have felt this.  She was recently hand-picked to tour with both the Indigo Girls AND Rhiannon Giddens (founding member of the Grammy-winning Carolina Chocolate Drops) - an indication of how highly she is regarded in her home country.

Recent tours in Scotland and the U.K. have seen Amythyst perform for audiences at the Americana Music Association UK Showcase, the Southern Fried Festival, Cambridge Folk Festival (main stage), the Edinburgh Jazz Festival, and SummerTyne Americana Festival, and of course, String Jam Club, generating a legion of new legion of devoted fans.

Amythyst was once described as having "a voice that could lure a fish onto an unbaited hook in the middle of the desert."  Soaring from subterranean lows to the highest of highs, it fills every space and crevice in the room with its powerful energy and depth. Having listened to her brilliant CDs, we can say that absolutely nothing prepares you for the reality of that voice in a live situation. It is a voice that is physically felt as well as heard when you are in its presence. With its perfect pitching, wide range, warm timbre and emotional resonance, it was like being hit in the gut by a huge wave of vocal velvet. Sometimes you are waiting for a voice to come along. You don't know who it will be or what it will sound like, but when you hear it, you'll know – this is the one.

"Amythyst Kiah's secret weapon is her voice. With it, she can save lives." (LIBRO MUSICA)
"Kiah stands out for her ability to fuse the old with the new."  (WASHINGTON POST)
"Amythyst KIah has rising talent written all over her." (THE SCOTSMAN)
"For those hearing Kiah perform, the testament is in the air and among them, a strong voice reaching back through generations to present a song that folks can still relate to.  Kiah is an important and innovative presence in contemporary traditional music." (BLUEGRASS SITUATION)
"In delivering her own mature, carefully-structured songs, Amythyst displayed the confidence to exploit her impressive vocal range without inhibition, assuming an almost spiritual presence." (BLUES AND MORE AGAIN)
"Amythyst Kiah will remind you what it is to love live music." (NO DEPRESSION)


Amythyst Kiah Website
String Jam Club on Facebook
Darlin Cory
Trouble So Hard
Myth

Tickets £12 available from the venue, payable cash (01750-721233), or on the door (subject to availability.)  Tickets can also be reserved in advance by emailing the club.  Online ticket sales via Eventbrite.  
 
15% discount off County Hotel restaurant meals for ticket-holders 6-7 pm on gig nights.  Advance table reservation advised by phoning 01750-705000.  
 
DOORS OPEN 7.30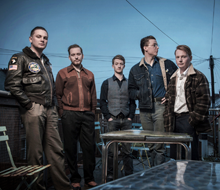 Rob Heron & The Tea Pad Orchestra don't care what genre you choose to put them in – western swing, country blues, ragtime hokum or whatever else– as long as you understand that they're 100% sincere and 100% immersed in this stuff. This is no lazy pastiche, no dressing up box. They live and breathe this music and want you to get immersed with them.
The Tea Pad are five years into a remarkable story that began with four friends studying folk and traditional music at Newcastle University and now sees them playing clubs and dancehalls and festivals the breadth of the British Isles and into mainland Europe (there was even a brief trip to India last year). Based on Tyneside but with members hailing from Orkney to Warwickshire, the Tea Pad sound draws on myriad influences – from Bob Wills to Django Reinhardt, George Jones to Cab Calloway – yet ultimately sounds like nobody else, that North Eastern Swing style that's utterly their own and changing all the time.
Across the three wonderful albums – 2012's "Money Isn't Everything", 2014's "Talk About The Weather" and now the new "Something Blue" – the band have constantly added new flavours to their sound: Heron in particular is a vinyl obsessive, always fired up about some new passion – calypso or boogaloo or whatever this week brings – and that eclecticism feeds into their songs, with the new album adding gospel and rockabilly to the Tea Pad palette.
The band tour the way bands should – widely and endlessly – winning friends and fans at each new show. They played 150+ shows in 2015, including well-received performances at festivals like Glastonbury, Bestival, Wilderness and Towersey Folk Festival. They've appeared twice on Radio 4's Loose Ends, and had their music played by everyone from Marc Riley to Huey Morgan.
"Something Blue" was released on Tea Pad Recordings on June 3rd 2016.
The Tea Pad are Rob Heron (vocals and guitar), Ben Fitzgerald (guitar), Tom Cronin (mandolin and harmonica), Colin Nicholson (accordion) and Ted Harbot (double bass).
"That's one hot band right there!" (HUEY MORGAN, BBC RADIO 2)
"Rob Heron evokes the spirit of Bob Wills and Django Reinhardt with a quintet that shuffles andboogies with panache. Infectiously good-humoured." (UNCUT MAGAZINE)
 "Amazing musicians who play with both passion and a sympathetic regard for the history of thegenre." (MAVERICK MAGAZINE)
"On this, their second album of skewed Texas swing, gypsy jazz and hot, humorous country blues they've added reeds and horns for a big, thick sound, but their spontaneous combustion is always unstoppable." (SCOTSMAN ON SUNDAY)

Rob Heron & The Tea Pad Orchestra Website
String Jam Club on Facebook
High Speed Train
Live at the Quay Sessions
Cats and Chickens

Tickets £14 available from the venue by phone 01750-721233. Tickets will be reserved for collection on the night, or you can pay on the door, subject to availability.

Online ticket sales via Eventbrite.

15% discount off County Hotel restaurant meals for ticket-holders 6-7 pm on gig nights. Advance table reservation advised by phoning 01750-705000.

DOORS OPEN 7.30