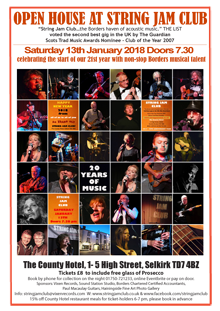 OPEN HOUSE AT STRING JAM CLUB is set to take the County Hotel in Selkirk by storm with a non-stop tidal wave of acoustic music, brought to you courtesy of the best of our local musicians.  Twenty years after we launched the club in 1997, we are about to usher in our 21st year, so we have truly come of age! So we've decided to have a party.  Those 20 years are a very long time and so much great music & special moments have been experienced. We've had so much fun, made so many new friends & welcomed people from all over the world. As we have always maintained, the club's long life is thanks to the many people, be they performers or punters, who have kept coming through the doors & into "the Borders haven of music."
 
Our guest headliners have been second to none, world-class, & have lit up & sometimes changed our lives with their music. But equally important are the excellent local musicians who have generously given us some superb opening performances before the main act, & who have impressed & entertained you with their skill, passion & flair.  So - to usher in the beginning of our 21st birthday year, and as a tribute to the important contribution these local musicians have made to the club and the community - we thought that our first event of 2018 should be their night.  
 
Instead of booking a headline artist, we are throwing open the String Jam Club stage to the many outstanding quality local musicians who have shone in their support slots at the club over recent years. It's going to be a veritable String Jamathon, a supremely entertaining night of non-stop music from some of the best of our Borders musicians, whose songs and tunes have made our evenings sparkle. The line-up is already chocca and is still being finalised, but I promise it's going to be grand and full details will be announced shortly on our Facebook Page.
 
More info to follow in the local press as well as our Facebook page & Twitter, so keep your eyes peeled!  In the meantime, keep that date in your diary. It's going to be one almighty party night at 'Open House at String Jam Club' as we come of age!

String Jam Club on Facebook

Tickets £8 (includes a FREE glass of Prosecco) are available from the venue by phone 01750-721233 (card bookings incur 50p card transaction fee). Tickets will be reserved for collection on the night, or you can pay on the door.

Online ticket sales via Eventbrite (booking fees apply).

15% discount off County Hotel restaurant meals for ticket-holders 6-7 pm on gig nights.  Advance table reservation advised by phoning 01750-721233.  

DOORS OPEN 7.30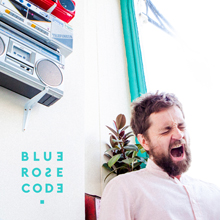 String Jam Club is totally over the moon to be welcoming Blue Rose Code to Selkirk.  Edinburgh born Ross Wilson spent his creative formative years in East London, then moved to South England "to be by the sea's energy" but it is in his homecoming that he has found where his heart is. Life wasn't always simple for Wilson. "I have swapped one type of chaos for another" says Wilson. As the main man at the helm of Blue Rose Code, he is, part director, part sculptor...total chameleon. He has spent most of his musical life curating; he sculpts his band to every mood and temperament in order to create the perfect happening. Tonight he performs in a three-piece line-up.
A nomad both geographically and musically, Ross writes from the heart eschewing any specific genre and the twelve songs on new album 'The Water Of Leith', addressing themes of love, loss, travel, home, accepting the past and embracing the future, are painted with colours of folk, jazz, soul and pop; an eclecticism that has become a hallmark of Blue Rose Code and has seen him compared to John Martyn, Van Morrison and Tom Waits.  This album was the winner of the Scottish Album of the Year Award 2017.
Underlining the sense of movement and place in Ross's work and 'The Water Of Leith' is rooted in his return to his Scottish homeland. There, he reconnected with the stellar folk and jazz musicians who were to become an integral part of the new album's sound. Grammy-winning American singer-songwriter Beth Nielsen Chapman features on the opening track. Ross co-produced the album with Angus Lyon.
Ross cites taking his last drink as the start of living rather than the end of the drinking. Now a committed enthusiast and creative whirling dervish, the past few years have yielded some of his most exciting work to date including the album 'The Ballads of Peckham Rye', which was nominated for the prestigious Scottish Album Of The Year Awards (2014).
A hallmark of Blue Rose Code is that they connect so strongly with their audiences in live performances  as they tour the length and breadth of the UK, selling out major venues and festivals wherever they go and leaving a trail of fans in their wake, people who have clamoured to see them.  To experience the deeply soulful and beautifully honest lyrical music of Blue Rose Code in the intimate atmosphere of String Jam Club is going to be a very special gig to savour.
With support from Jenny Biddle.
"Seriously, can't recommend Blue Rose Code enough, cannot stop listening." (EWAN McGREGOR)
"The boy's a genius." (IAN RANKIN)
"Every gig is different with Ross. A great gift of a man." (RICKY ROSS)
"The day that 'Solid Air' and 'Astral Weeks' combined." (RODDY HART)
"Wilson's songwriting is fantastically varied, and as witty and knowing on the one hand as it can be heartbreaking and sentimental on the other." (THE HERALD)
"An affirmation of love that links human relationships with the natural world. As sublimely paced as Astral Weeks-era Van Morrison." (FOLK RADIO UK)
"The Water of Leith is an ode to forgiveness, to letting go of the past and holding on to hope – it's an astonishingly accomplished, pure and sincere record."  (***** THE SKINNY)
"A work laden with beauty, possessed of depth, heart and soul." (AMERICANA UK 9/10)
"This album deserves your undivided attention" (MAVERICK)
"Truly special and beautiful."  (EDITH BOWMAN, BBC RADIO 1)
Blue Rose Code Official website
String Jam Club on Facebook
Over The Fields (For John)
Grateful (live on RTE)
Love Is (feat. Julie Fowlis)
Live at the Queens Hall documentary
Tickets £15 available from the venue by phone 01750-721233.  Tickets will be reserved for collection on the night, or you can pay on the door, subject to availability.

Online ticket sales via Eventbrite.

15% discount off County Hotel restaurant meals for ticket-holders 6-7 pm on gig nights. Advance table reservation advised by phoning 01750-721233.

DOORS OPEN 7.30